Melbourne
Emerging leaders tackle the biggest future energy related challenges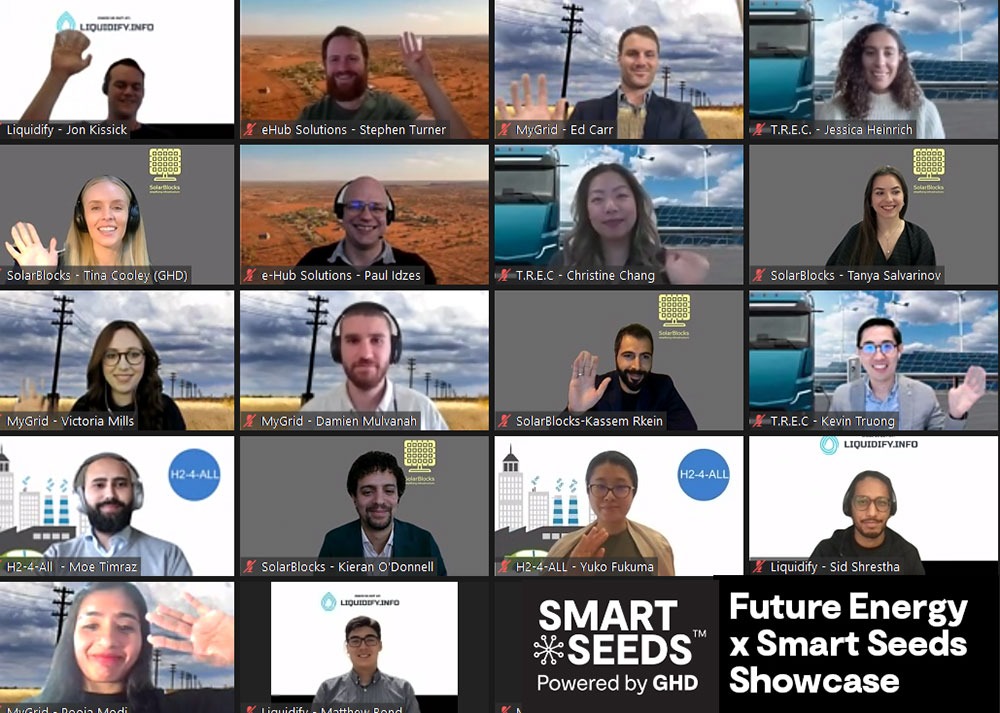 August 09, 2021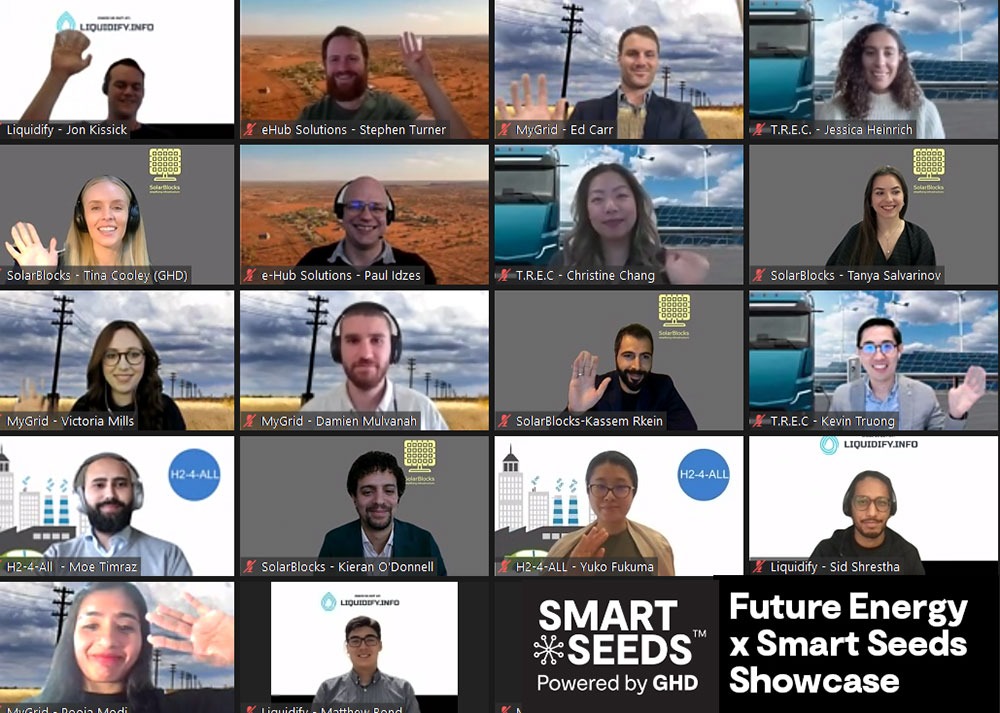 The global push towards green, renewable energy has created a demand for new skills and fresh thinking in the workforce to help support this urgent transition. Our Smart Seeds program, a global innovation initiative powered by GHD Digital, is helping equip emerging leaders with the innovation and collaboration skills they need for our energy future.
Across nine weeks, the program taps into the next generation of engineers, inventors and builders to generate fresh ideas on complex challenges.
Recently, six teams made up of young professionals from the public and private sector worked together virtually with team mentors to develop solutions to their set challenges relating to future energy. Each team pitched their solution to three judges – Dr. Alan Finkel, Special Adviser to the Australian Government on Low Emissions Technologies, Prof. Peta Ashworth, Director, Andrew N. Liveris Academy for Innovation and Simone Concha, Executive Manager Sustainability, Western Sydney Airport.
"The backdrop of the rapid environmental, economic and societal change has put GHD on the quest to help our clients in the transition to the low carbon future. The Smart Seeds Future Energy program has forced each of the participants to rapidly acquire and demonstrate many of the skills needed for the future," says Sarah Fitzgerald, Australian Future Energy Lead, GHD.
"This program, and our commitment to building capabilities for the industry, is one way we are playing our role in this transition for our clients and communities."
The six solutions
The judges commended the high calibre of each solution, but the winning idea was T.R.E.C. Dr Alan Finkel says, "We thought they were all excellent solutions, very professional and well thought through, but ultimately we had to choose just one."
"We were very impressed with the stakeholder consultation the T.R.E.C team conducted. Overall, we thought it was a clever application of thinking that has been used in other sectors but has the potential to be world first for transport. It was one that could truly be developed, and this is clear considering the interest that their project idea has received from the Australian Renewable Energy Agency (ARENA)," adds Alan.
SolarBlocks took the People's Choice Award with the concept 'made to be unmade' resonating with attendees who voted during the session.
"Creativity is a key skill future leaders need to develop," says Kumar Parakala, GHD Digital's President. "While technology is advancing rapidly, the application of new technology is often still catching up. Smart Seeds unlocks the freedom of applying today's technology to solve problems in new ways, which we have seen in the creative thinking of the participants' ideas."
Thank you to the participating organisations
ARENA, Barwon Water, CleanCo Queensland, Icon Water, Kawasaki, LAVO, Lumea, Metro, Origin, Pacific Hydro, Territory Generation, Water Corporation, Western Power, GHD
Congratulations to the winning teams, T.R.E.C, consisting of Christine Chang (CleanCo Queensland), Ciara Durnien (Water Corporation), Jessica Heinrich (LAVO | Studio Air), Nathan Stones (Barwon Water), Kevin Truong (Lumea); and SolarBlocks, consisting of Tina Cooley (GHD), Will Furness (ARENA), Sabrina Moir (Icon Water), Kieran O'Donnell (LAVO), Kassem Rkein (Territory Generation), Tanya Salvarinov (Water Corporation).